Congratulations to the UNconvention award winners in 2 award categories: "Destruction Award" (rather than "Preservation Award"—for cars that had been destroyed in the oddest way or by twist of fate, no harm to people) and "Mature Enthusiast" (rather than "Young Enthusiast"—for a person 55 or over with a dedicated history of Saab ownership and enthusiasm). The SCNA Board voted on the entries, and the winners for each are as follows:
Destruction Award:
1st Place is Peter Fagen, Atlanta, GA–1995 9000 Aero, LeMans Blue (only 63 made that year). A severe thunderstorm swept through downtown Atlanta and a big tree next to my driveway landed on 2 of my Saabs.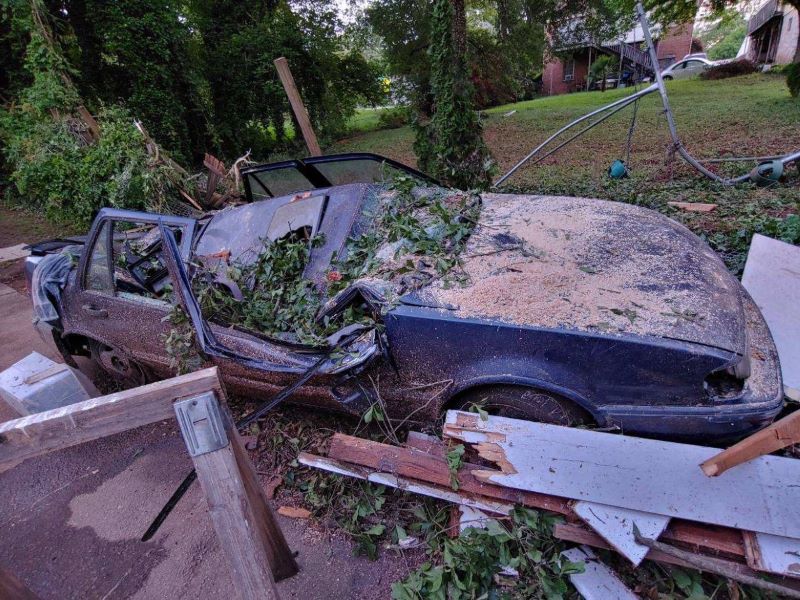 2nd Place is Dan Morley, Tacoma, WA–1966 96. A mighty Douglas Fir came down in a windstorm in December 2006. The unfortunate 96 was a 1966 which had been converted to V4 power. We live in the Tacoma Washington area and the car had been purchased with a bad gearbox and the intention to fix it and get it back on the road.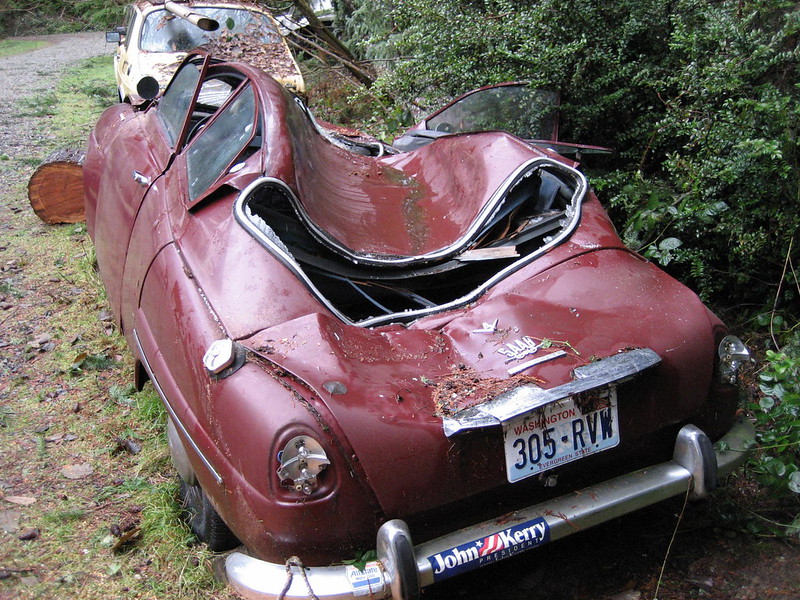 3rd Place is Peter Fagen, Atlanta, GA–1991 900 Convetible, Beryl Green (116 made). The second car destroyed was my 1991 900 'Vert. The irony is that was my 2nd Beryl Green 'vert; the first one had a transmission fail!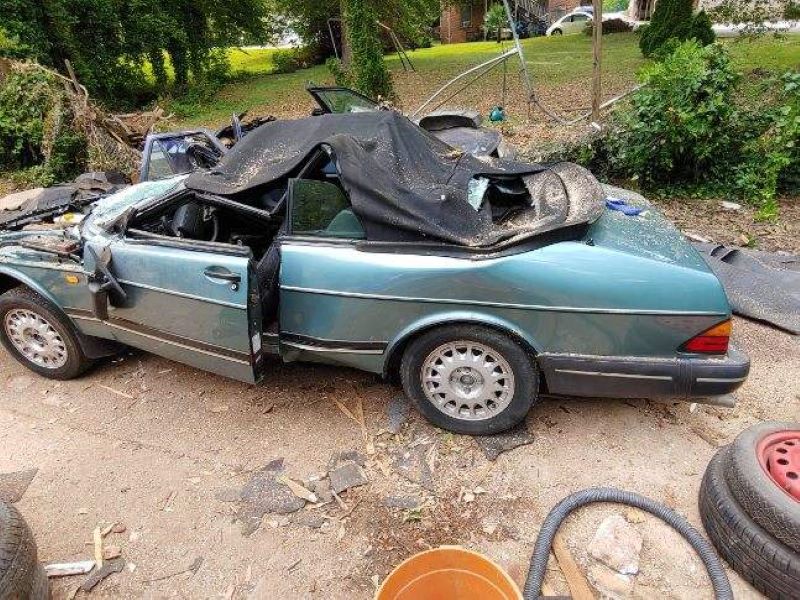 Mature Enthusiast Award:
1st Place is Ron Raymond, Munnsville, NY. I have been dealing with ALS for the last 20 years and can no longer drive or even ride in any of my cars, but I just can't bring myself to part with any of them! Each one was searched for extensively:
1973 Saab 96: 6000 original miles, never titled or registered
1986 900S notchback: The only new car I ever bought. Picked up at the factory and enjoyed on the Autobahn!
1989 SPG: Totally original with the exception of a radio/CD player from a 9000.
1991 SE convertible with 67,000 original miles.
2002 9-5 Aero wagon: The car I was driving before I couldn't drive any longer.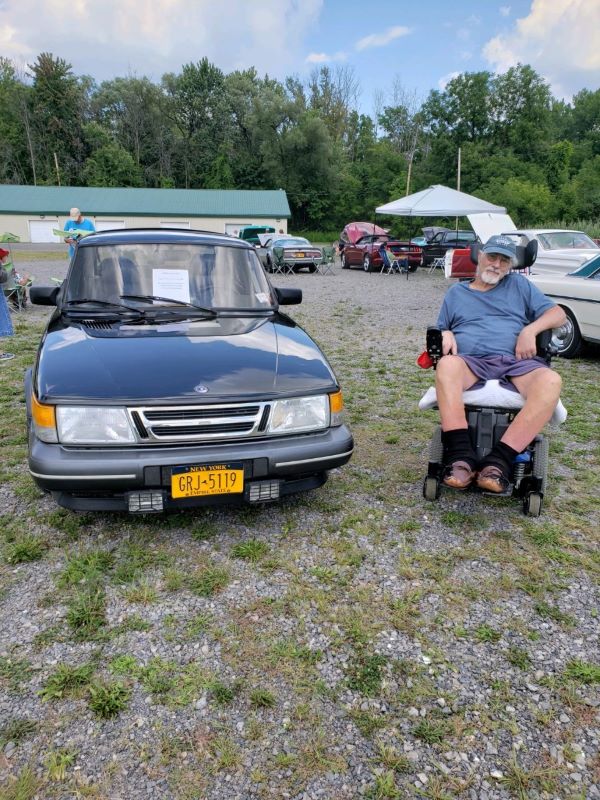 2nd Place is Pierre Belperron, Fremont, NH. I've spent most of my professional career (1984-2012) working with Saab, almost all with Charles River Saab. Few know that I moonlighted at a second Saab store–Saab City Framingham, same ownership as Charles River–on weekends for two years where I sold Saabs, while being the service manager at Charles River Monday through Friday. My greatest accomplishments in the furtherment of Saab appreciation came through building community, including:
Twenty years of running Swedish Car Day
Organizing advanced driver training events for Saab owners, with over 200 owners trained.
Writing the first auto-dealer blog in the US (as cited by Wards Automotive) — crsaab.blogspot.com
Organized the "We are Many We are Saab" rally in Boston.
Through friends, and family I have created many Saab enthusiasts. My three sons are all huge fans, two of them have multiple daily-driver Saabs. Andre, my oldest son, married a woman who learned to drive in a 2002 9-3 5 speed. Middle son Pascal, one of a top builder of Ford rally cars, doesn't drive a Ford when he races! Instead, he races a 1985 SPG, taking third in class at the Mt Washington Climb to the Clouds hill-climb in 2017. Youngest son Marcel, an engineer, currently has three Saabs: 1986 900T, 1992 900T 'vert and a 2006 9-5 Aero wagon. I knew he "got it" when one day he told me "My BMW does everything better than my 900T…but there is nothing special about the driving experience the way there is in the 900." My fleet:
–2001 Viggen (daily driver)
–1994 900S convertible (daily driver)
–2004 9-5 Aero Wagon
–2006 Aero Wagon
–1992 900T convertible
–1986 900T
–1992 900T project car whose ownership is unclear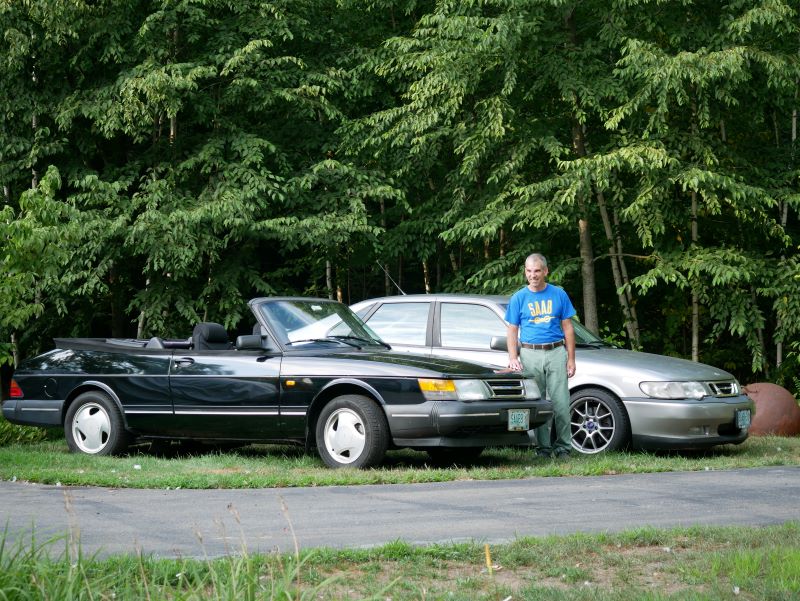 3rd Place is Bob Start, Rockport, ME. Here is my family with our 1991 9000 in 2001—no need for a minivan to take the whole family camping, including kayaks and bicycles! Finally retired it in 2014 at 266,000 miles on it.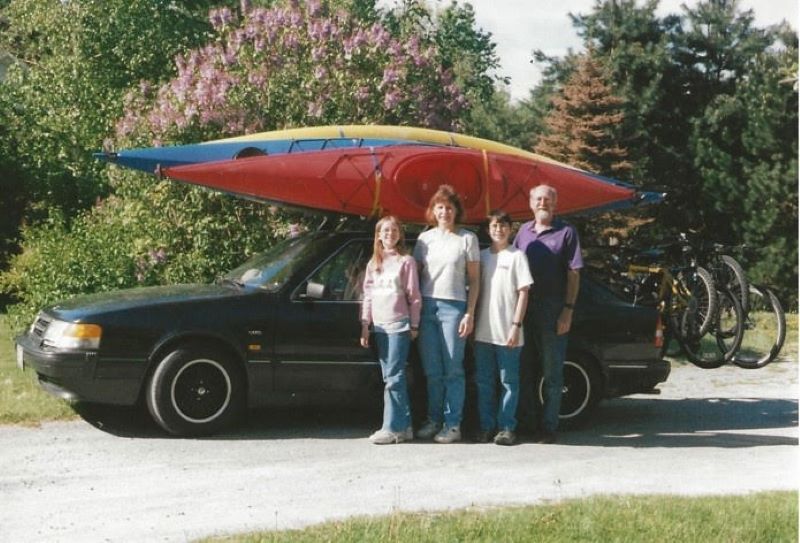 Special Mention: UNconvention "Persistence" Award:
1st Place is Nathan Warner, West Sand Lake, NY. Nathan showed up at The Desmond on July 18th for SOC!! His comment: "2020 SOC. Where is everyone? I guess I'm Class WINNER!!!!!!!! Hope to see you all a year from now- same place!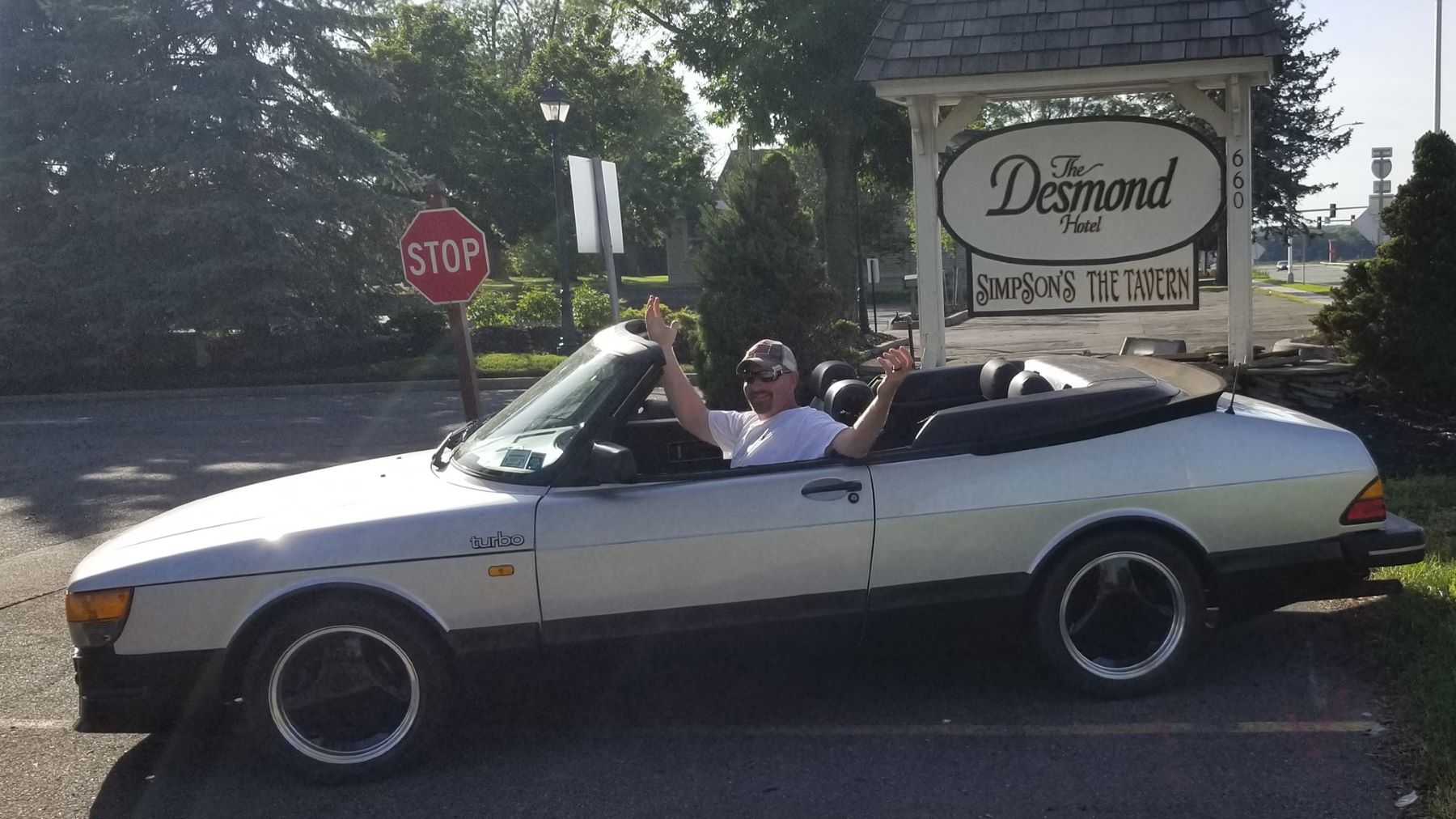 2nd Place is Ed Lorenz, Oneonta, NY. Ed showed up at The Desmond on a late-night run to SOC!!