---

Saab Owners Convention July 21 – 24, 2022 Sturgis, South Dakota
---
A Message From The President of SCNA

SOC '22 – A Special Saab Owners Convention
On behalf of the SCNA and the Saab Heritage Car Museum USA, I invite you to attend the Saab Owners Convention on the grounds of the recently renovated museum located in the spectacular Black Hills of South Dakota. This year, we are planning a unique convention to celebrate the 75th anniversary of Saab Automobile by showcasing the historical vehicles in the museum and touring the surrounding area, which offers great roads and some of the best scenery and landmarks that America has to offer.
While the convention and events are based at the Saab Heritage Museum, our banquet dinners will take place at the luxurious Deadwood Lodge, located just a few miles outside of Sturgis. Choose your stay either at the lodge itself, where we have reserved a block of rooms, or at one of the other local hotels that have limited room blocks available at a price point to fit most budgets. Although the official convention is Thursday, July 21st through Sunday the 24th, we are planning sightseeing and other events throughout the week, so stay as long as you can and follow us to receive event and information updates as we get closer to SOC 22.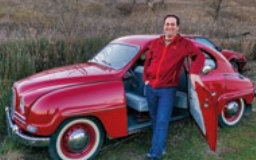 ---
Frequently Asked Questions
Where is the Saab Owners Convention this year?
Sturgis, in the Black Hills region of South Dakota. Most events will be held at the Saab Heritage Car Museum USA in Sturgis, with Friday and Saturday banquet dinners at The Lodge at Deadwood, in Deadwood, SD. Thursday dinner will be at the Sturgis Brewing Company, just across I-90 from the Museum.
How do I register?
Register using the online form
. Lodging is not included in this registration so you must make your own hotel arrangements. Be aware that this year registration is À la carte. For each registrant you must select whether you want to show a car, which meals you want, and any additional merchandise you wish to purchase.
Do I need a ticket?
You need to pay for a registration, but we do not print or mail paper tickets. You can pick up your registration packet and materials at the Registration Tent on the museum grounds beginning Thursday afternoon.
Can I register more than one person?
Yes, after you fill in all the details for the first person, hit "Save Registrant"; in the pop-up you can "Add Another Registrant" (up to 10) or Continue to Billing.
Can I bring my spouse/family/companion?
Yes, of course! There are several options for guests that accompany you. If attending SOC at the Museum grounds, each attendee will need to pay for a registration. Each registration includes a "bag full of swag", Museum admission, opportunity to vote in People's Choice on the Showfield on Saturday, and tech sessions and meetings. If your companion chooses not to attend SOC at the museum, you can purchase Companion Dinner tickets: With one regular registration, you can add up to 3 tickets each for any of the dinners.
Do I have to be a member to attend?
Yes, every transaction must include one active SCNA member. A 1- or 2-year membership fee that includes 4 issues of 9s, our quarterly magazine will be added if you are not already a member. A transaction can include up to 10 people, only one of whom must be a member. (It's a tax thing.)
I already booked my hotel room. I'm done, right?
No, the hotel room, while available at a discounted rate for our event is separate from the Convention. See more hotel information below. Your SOC Registration is separate from the hotel reservation.
How does breakfast work this year? Lunch?
Breakfast is not included in Convention Registration, but check your individual hotel for options. We will have one or more food trucks at the Museum on Friday and Saturday where you can buy lunch.
Are pets welcome?
The Lodge at Deadwood has a pet policy that does permit some pets. You should check with the Lodge for specifics. For the alternate hotels, check with them for specific pets policy.
Why is it so expensive? Must I pay to attend?
SCNA is a non-profit club run by a volunteer Board of Directors. Our aim is not to make money, but rather to provide value to our members by putting on a great convention. We are trying to offer a memorable experience for our club members. It costs a lot of money to put on a convention, and our goal is to break even. This year, because of the unique location, there are additional overhead costs usually provided by the host hotel (tent, insurance, toilets, water stations, and more). Registration also includes an admission fee to the Museum. You may also make a contribution to the museum in our registration form. Sponsorship defrays a good part of the cost for attendees. Please thank our sponsors!
Where do I park my car?
Because of Showfield space limitations at the museum, this year there is a separate $39 charge to show a car which will be paid at registration. If you do not wish to enter either Concours d'Saab or People's Choice, there will be free general parking at the museum. Only registrants who have paid an entry fee will be allowed to park on the Showfield.
When will day passes be available, and how much will they cost?
Day passes will not be available this year. Each attendee at the museum will be required to purchase a registration.
Can I buy just Friday/Saturday dinner?
Registrants can purchase individual meals at registration. The primary registrant can purchase up to 3 additional companion meals for guests at registration. Meals will sell out fast and will likely not be available for purchase after registration closes.
Must I pay for a room in the hotel to attend the Convention?
No. There are many lodging options available in the area, but to attend the SOC at the museum you must purchase a registration.
Can I camp on the grounds of the museum?
No, but there are many campgrounds nearby.
What time does the Convention start?
The optional Sponsor Appreciation Dinner starts at 6 pm MDT on Thursday. The main convention events start at 9:00 AM Friday at the Museum and continue until Saturday, wrapping up with the Awards Dinner on Saturday evening at the Lodge. Look for the schedule of events in your registration packet. The Saab Heritage Car Museum USA may have events planned on Sunday. People may decide to arrive early in the week or leave later and take advantage of all that the scenic Black Hills has to offer.
Will the car wash station be open early?
No, this year we do not have a car wash station. There is a commercial car wash, Scooptown Car Wash, which is 1/2 mile away from the museum.
What if I win an award but don't attend the Saturday Awards Banquet?
SCNA will do our best to mail your award should you receive one. Alternatively, we can have your award available Sunday AM at the museum to avoid shipping charges.
Should I enter my car in Concours d'Saab or People's Choice competition?
You can read about the differences in the two competitions if you want to show your car on the Showfield.
Will there be changes to the car show this year?
Yes, there will be changes to both Concours d'Saab and People's Choice competitions at SOC 2022.  Because of the limited showfield space, the changes will allow for ease of planning prior to judging day.  Last minute changes to cars entered due to extenuating circumstances will be allowed.  Cars will be allowed entry into one competition only, not both. 
---
Registration
Register using the online form
.
---
Hotels

SCNA proudly announces that we have secured The Lodge at Deadwood (Deadwood, SD) as the banquet hotel for SOC 2022! Rooms are available for July 21-24 at the special rate of $199/night, with handicap accessible rooms (pets ARE allowed). The Friday Welcome Dinner and Saturday Awards Banquet will be held at The Lodge – all other SOC events will be held at the Saab Heritage Car Museum (Sturgis) or other locations to be announced.
To secure a room reservation at The Lodge, you must call The Lodge directly at 877-393-5634 or 605-584-4800 and indicate you are with the Saab Owners Convention. The reduced rate will NOT be available via their website. Additional nights at the special rate are "as available" for Wed. July 20 and Sun. July 24
As of this writing, rooms at The Lodge are going fast, so SCNA has secured additional blocks of rooms at local hotels:
Baymont Inn: $139-$169 (depends on the room type) (605-347-4140, reference Saab Club)
Days Inn: $159 (605-206-3077, reference Saab Club),
Super 8: $159 (605-347- 4447, reference Saab Club), and
Sturgis Lodge and Suites: $99-$115 (depends on room type) (605-347-3604, reference the event dates).
Each hotel has their own policy concerning rates for additional nights before and after SOC. Please call the hotel directly for this information. All hotels are very convenient to The Saab Heritage Car Museum USA.
Should you have any questions, see the Convention FAQ , or reach out to Mark Welker (Convention Coordinator) at secretary@saabclub.com. We look forward to seeing you in 2022!
---
Museum Lot and Traffic Plan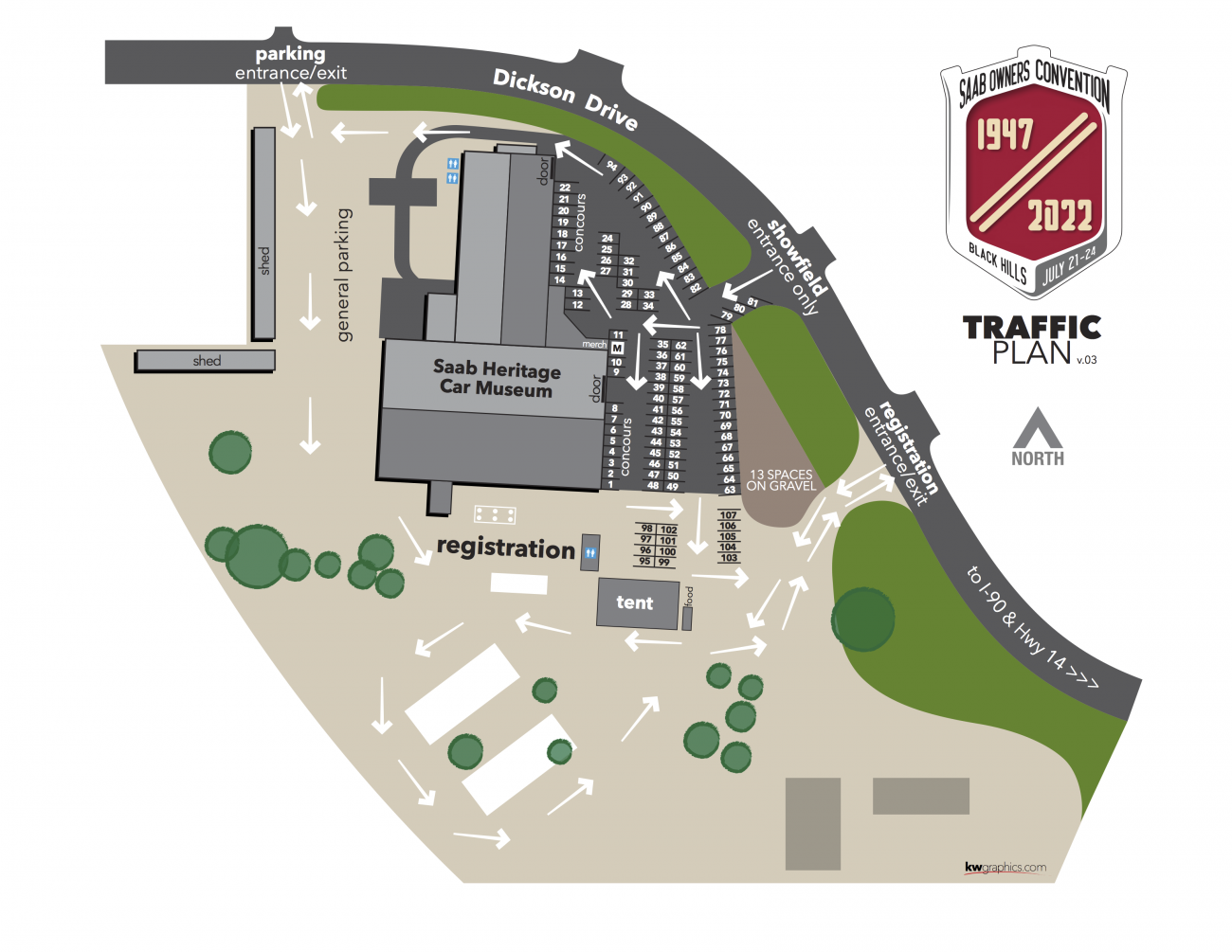 Concours d'Saab cars will park along front of Museum.
Only cars with dash cards indicating registration will be allowed on the showfield.
Entrance to showfield is one way in only, no exit. Traffic on showfield will be one-way with exits to the north and south.
---
75th Anniversary of Saab Automobile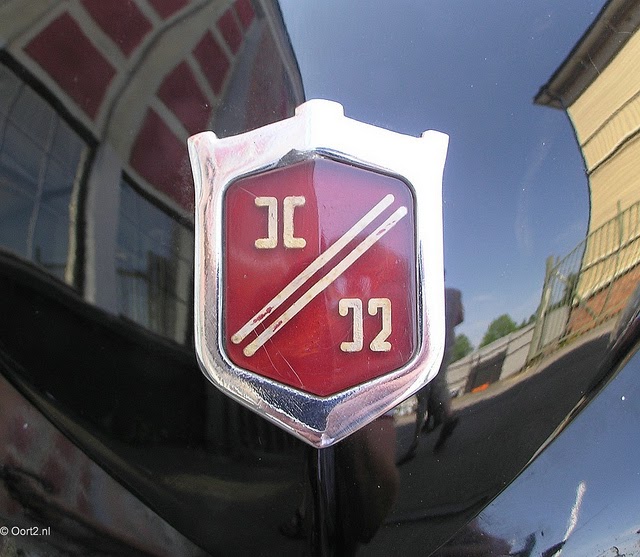 "Ursaab", which translates to "original Saab" was Saab's first prototype automobile. Since the Swedish aircraft manufacturer Svenska Aeroplan Aktiebolaget (SAAB) expected significant production declines as a result of the end of World War II, various concepts were developed to keep the plant running at full capacity. Considerations were: motorcycle or vehicle construction, prefabricated houses , fitted kitchens, or ships with light metal hulls. "Projekt 92" came into being as a result. The goal was to build a small car to compete in the marketplace against manufacturers such as Volkswagen, Volvo, Opel, DKW, and others. A Saab had to be the right size, type, construction, and price – a small, affordable car. The vehicle had to be light, aerodynamic and offer space for four people. The target consumer price was 3200 SEK (equivalent to 366 USD).
Project 92, so-called as numbers 90 and 91 had already been assigned to civilian aircraft projects, was agreed to by Saab in 1945. The development took place under the technical direction of engineer Gunnar Ljungström; the body design came from industrial designer Sixten Sason . Of the 16 developers, only two – Ljungström and Rolf Mellde , who also acted as test driver – had a driver's license.
Extensive flow tests were carried out with a wooden model ( scale 1:10) in the company's own wind tunnel. The "Ursaab" achieved a value of 0.32, which was extraordinarily good for the time . The streamlining was aircraft like and was designed to reduce fuel consumption. The full size model was viewed with some reservations by Saab management, and in response engineer Gunnar Ljungström was noted to say: "…if it can save 100 litres of fuel a year, it doesn't matter if it looks like a frog." The Ursaab had front-wheel drive and was propelled by a DKW two-cylinder, two-stroke engine (DKW was one of the four companies along with Horch, Wanderer, and Audi that formed Auto Union in 1932 and is hence an ancestor of the modern day Audi company) .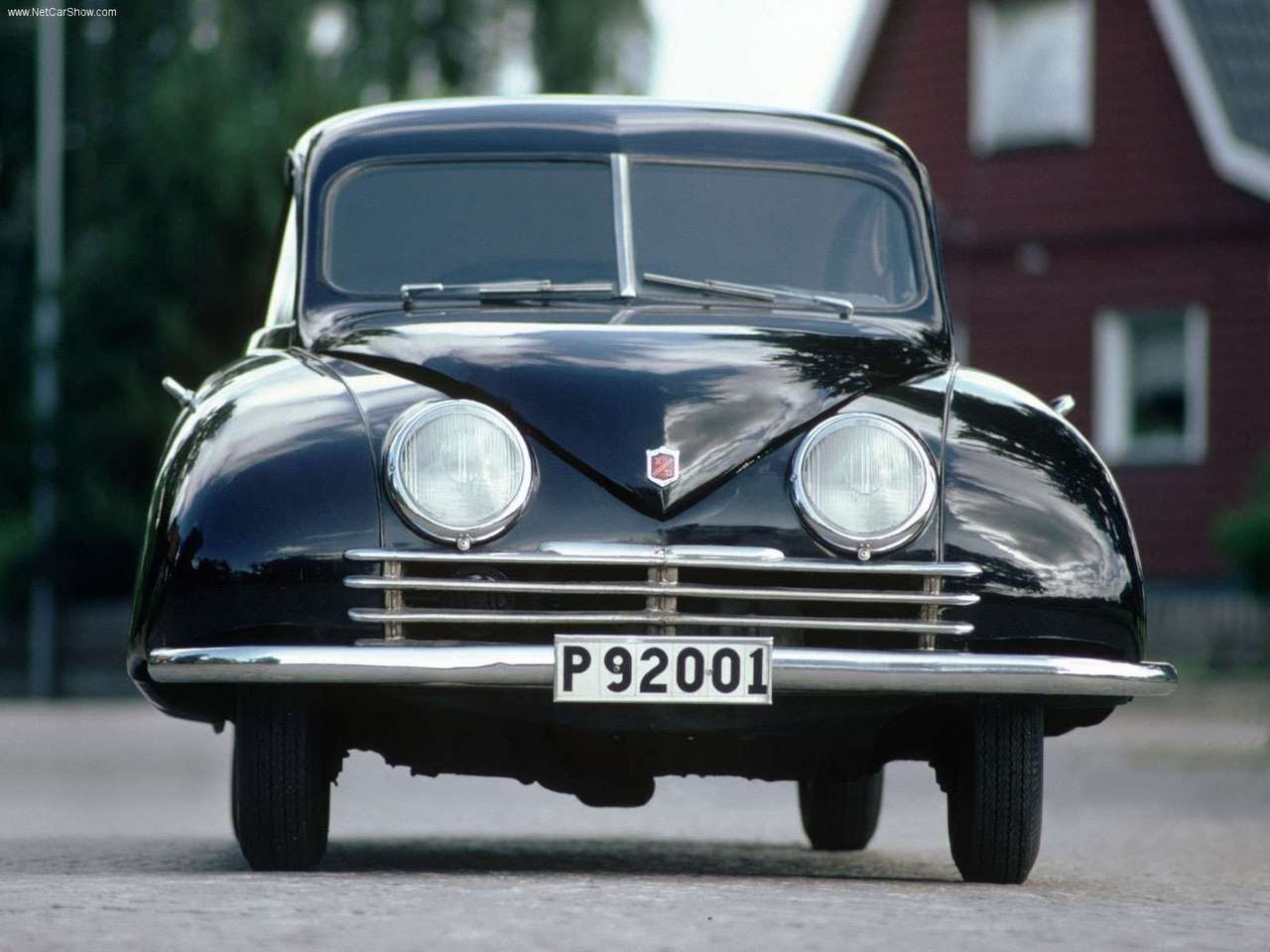 The engine had a displacement of 692 cm³ and developed 14 kW (18 hp) at 3500 rpm. Thanks to the good aerodynamics, the top speed was more than 110 km / h (68 mph!), around 20 km / h higher than that of an identically motorized DKW. With its self-supporting body and independent wheel suspension all around, the Ursaab had very modern design features. The choice of rear-hinged doors was made by Gunnar Ljungström as he wanted to lessen the risk of damaging doors while backing out of a garage.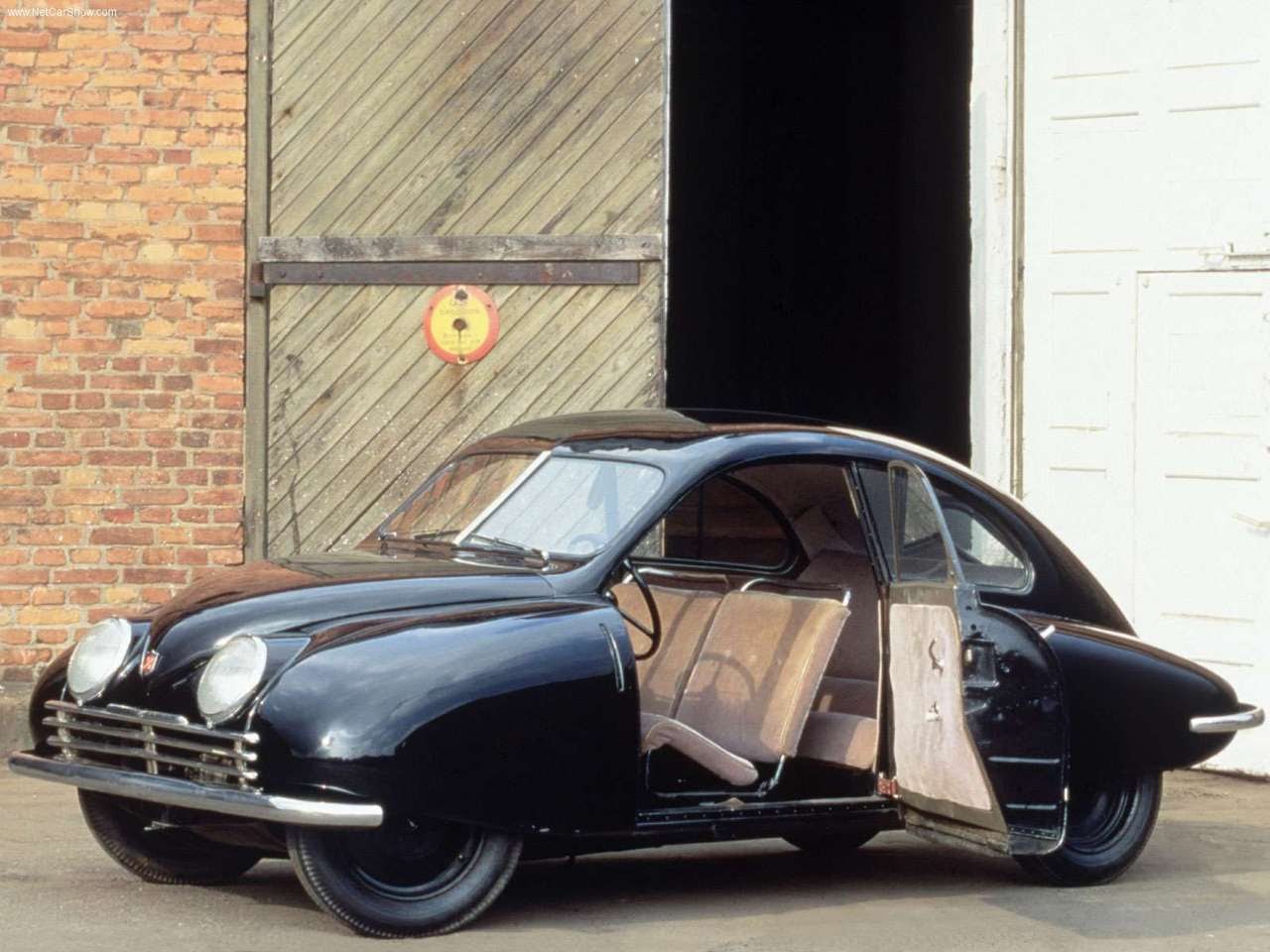 The Ursaab was ready to drive by the end of summer 1946 and was immediately tested day and night. Prototype cars 92002 and 92003 were driven on every possible type of road surface and with the Ursaab (92001) clocked over 329,327 miles – equivalent to 13 journeys around the world. 92002 was presented to the Swedish press on June 15, 1947 at the Linköping headquarters next to the Ursaab, which at that time had covered around 31,000 miles on test drives . Another two years passed between the presentation of the prototypes and the start of series production of the Saab 92.
A curious feature of the Ursaab was the hood emblem. This was the first emblem to appear on a Saab automobile. The symbol itself was nothing more than a fictitious heraldic symbol which did not appear on any Saab since. The characters on the badge have no meaning, but it is an iconic symbol which is a reminder of how and where Saab automobiles came from.
The summer of 2022 marks the 75th anniversary of Saab automobile, and the Saab Club of North America will feature this iconic symbol as its logo for the Saab Owners Convention 2022 in Sturgis, South Dakota. The backdrop of the Saab Heritage Car Museum USA and this iconic symbol will serve to remind us of Saab's humble beginnings. Make plans to attend SOC 2022 today and join us in celebrating 75 years of Saab!
Wednesday drive to Devil's Tower – Gather at Museum at 10:00 am Weds July 20. Lunch stop included.
Thursday drive to Mt. Rushmore – Gather at Museum at 8:00 am Thursday July 21.