---
Saab Owners Convention July 18 – 21, 2024 Portland, Oregon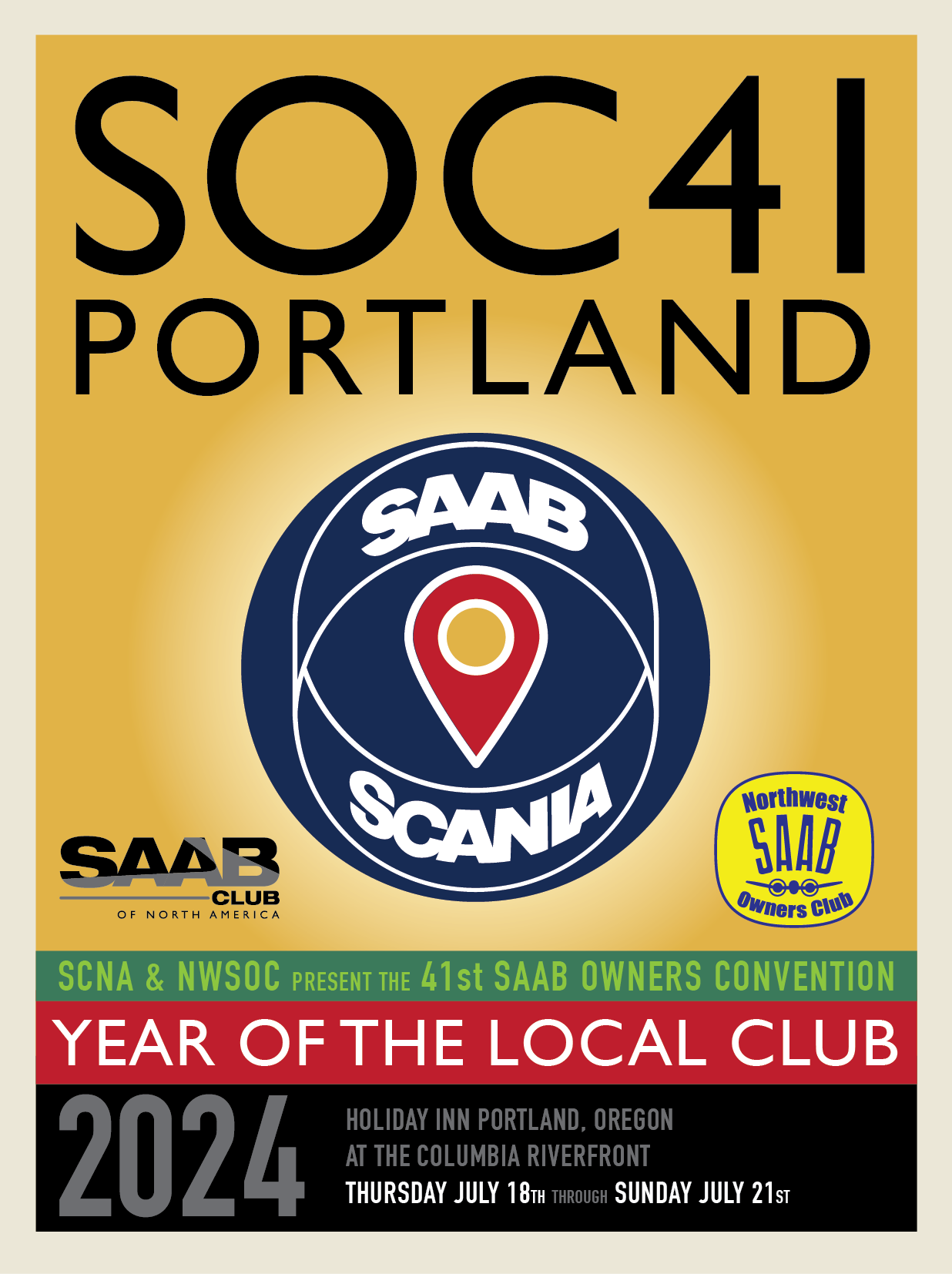 The Saab Club of North America (SCNA) announces the 41st Saab Owners Convention will be held in Portland, Oregon. Thursday July 18th-21st at the Holiday Inn Portland – Columbia Riverfront. Book your hotel rooms now!
This 41st Saab Owners Convention will celebrate our Local Saab Clubs.
This is our Year of the Local Clubs: Across North America, Local Clubs power our day-to-day interactions with Saab cars and with our most valued connections – our friends. After all, Local Clubs are what makes the Saab community uniquely helpful and friendly.
Home of the Northwest Saab Owners Club, Portland is the picture-perfect celebratory setting for all our Local Clubs. Come represent in one the nation's most beautiful settings at a fantastic venue right next to the Columbia River: A showfield with a view!
Here's your pre-flight checklist to attend the Saab Owners Convention (SOC):
Book your hotel room. You can book your hotel room early using the link and and referring to SAAB Owners Convention. If you call the hotel please specify or you will miss out on the special rate. (link to Hotel Booking)
Register for SOC. Early in 2024, registration for the Convention and its events will be open.
You can choose your events, meals, etc at that time. To be notified when registration opens, you can join the SOC attendees' Facebook group.
Don't forget to join SCNA! You must be a current SCNA member to attend SOC: join now or at registration ($42.00 annually).

The fine print? Well, that's simple too. We've got you covered.
Attendees are responsible for their own room charges.
A credit or debit card is permissible for holding the reservation.
Attendees will not be charged until check-in.
Room rate is subject to taxes and fees.
Our Group Rate is available 3 days prior (Monday) & 3 days after (Tuesday) based on Hotel availability.
Call +1 503-283-4466 for reservations and refer to "Saab Owners Convention 2024"
There is a 72-hour (3 day) cancellation allowed at no charge prior to the event.
---