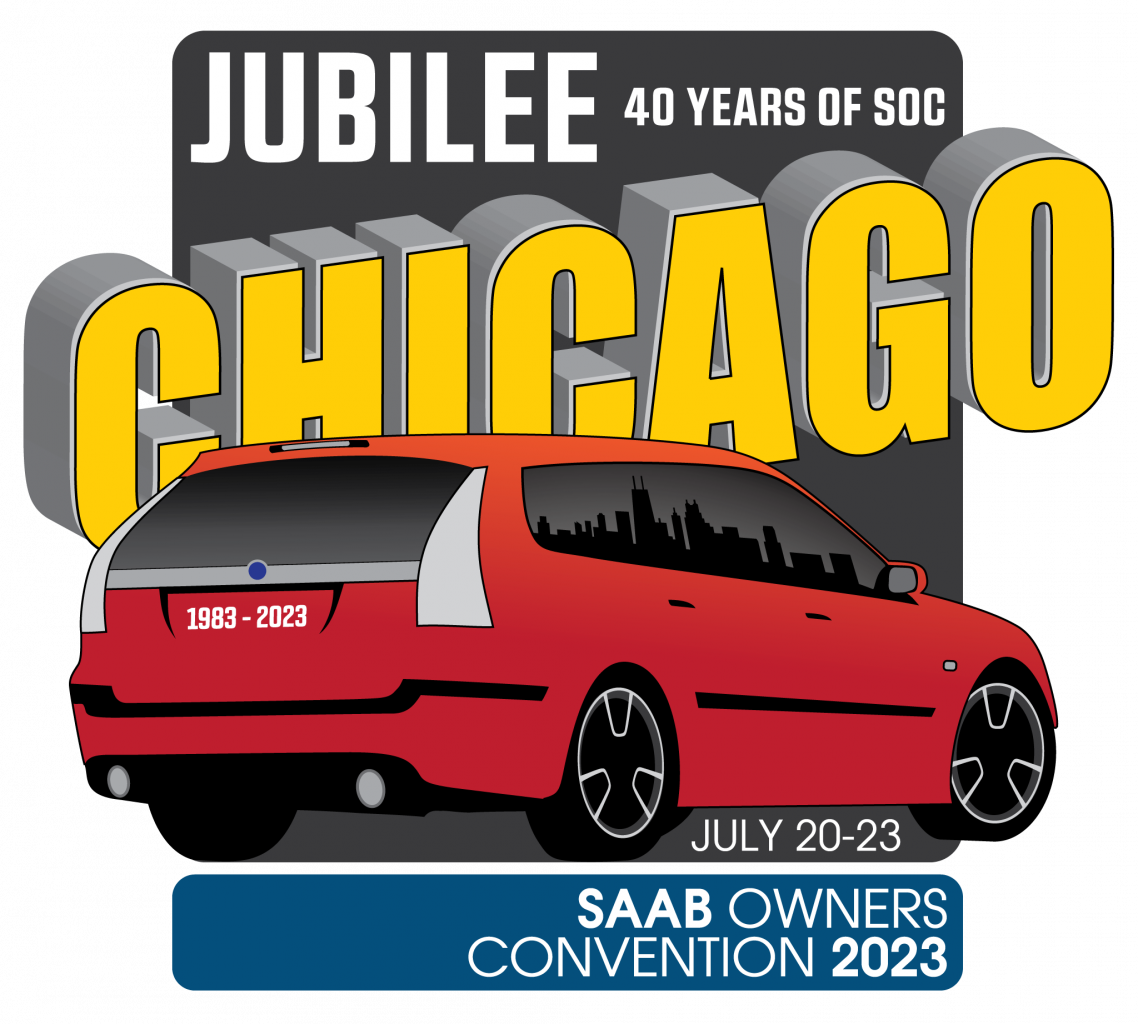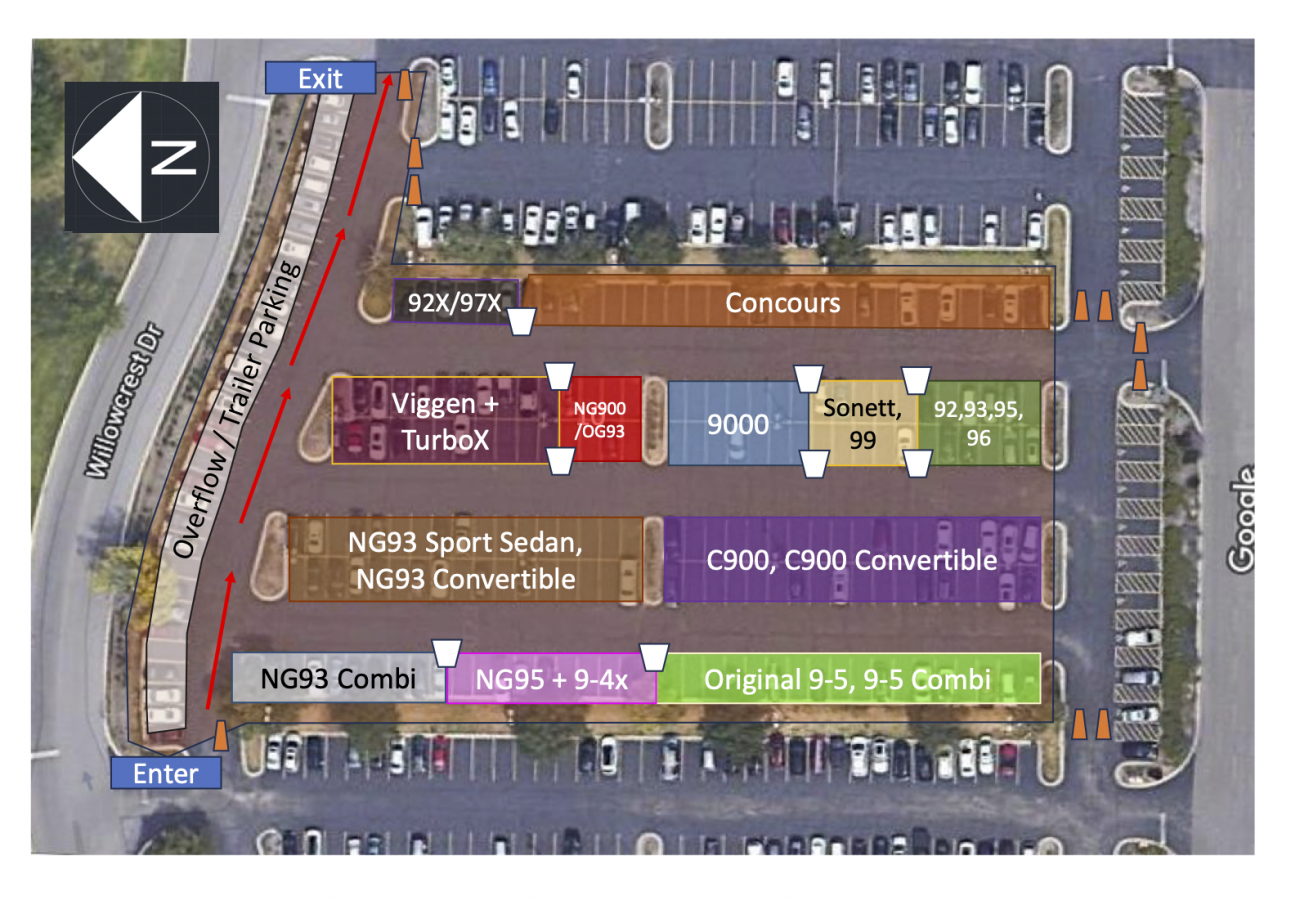 ---
Saab Owners Convention July 20 – 23, 2023 Oak Brook, IL
---
A Message From The President of SCNA
The Saab Club of North America (SCNA) proudly announces that we have secured the Hilton Chicago/Oak Brook Hills Resort and Conference Center, in Oak Brook, Illinois, as the venue for our Saab Owners Convention 2023! Rooms are available for July 18-23 at the special rate of $149/night plus taxes. All SOC events will be held here, or other locations to be announced.
Our track event, which is an option in addition to your registration, is on Wednesday, July 19, at the Autobahn Country Club in Joliet, under an hour drive from the convention hotel.
Check back here later for more details. We plan to open registration on or about April 1. Convention registration, track participation, and hotel reservations are entirely separate: your hotel booking does not get you into the events or vice versa.
We look forward to seeing you in 2023!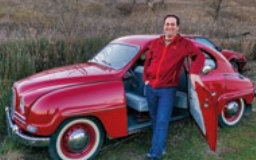 ---
Frequently Asked Questions
Where is the Saab Owners Convention this year?
How do I register?
Register using the online form. Lodging is not included in this registration. You may
book a room
at our event rate at the Hilton.
Do I need a ticket?

You need to pay for a registration, but we do not print or mail paper tickets. You can pick up your registration packet and materials at the Registration desk in the convention center beginning late Thursday afternoon.
Can I register more than one person?

Yes, after you fill in all the details for the first person, hit "Save Registrant"; in the pop-up you can "Add Another Registrant" (up to 10) or Continue to Billing.
Can I bring my spouse/family/companion?

Yes, of course! There are several options for guests that accompany you. If attending SOC at the hotel, each attendee will need to pay for a registration. Each registration includes a "bag full of swag", opportunity to vote in People's Choice on the Showfield on Saturday, and tech sessions and meetings. If your companion chooses not to attend SOC, you can purchase Companion Dinner tickets: With one regular registration, you can add up to 3 tickets each for any of the dinners.
Do I have to be a member to attend?

Yes, every transaction must include one active SCNA member. A 1- or 2-year membership fee that includes 4 or 8 issues of 9s, our quarterly magazine can be added if you are not already a member. A transaction can include up to 10 people, only one of whom must be a member. (It's a tax thing.)
I already booked my hotel room. I'm done, right?

No, your hotel booking is separate from the Convention. See more hotel information below. Your SOC Registration is separate from the hotel reservation.
How does breakfast work this year? Lunch?

Breakfast is not included in Convention registration, but it is available at the hotel. Lunch and dinner are available a la carte, as part of your Convention registration.
Are pets welcome?

Not at this venue, sorry..
Why is it so expensive? Must I pay to attend?

SCNA is a non-profit club run by a volunteer Board of Directors. Our aim is not to make money, but rather to provide value to our members by putting on a great convention. We are trying to offer a memorable experience for our club members. It costs a lot of money to put on a convention, and our goal is to break even. Sponsorship defrays a good part of the cost for attendees. Please thank our sponsors!
Where do I park my car?
When will day passes be available, and how much will they cost?

Every Convention Registration is the same as our past day or weekend pass in that the meals are optional. Each attendee at the Convention will be required to purchase a registration.
Can I buy just Thursday/Friday/Saturday dinner?

Registrants can purchase individual meals at registration. The primary registrant can purchase up to 3 additional companion meals for guests at registration. Meals may sell out and not be available for purchase after registration closes.
Must I pay for a room in the hotel to attend the Convention?

No. But to attend the SOC at the Convention Center you must purchase a registration.
Can I camp on the grounds of the hotel?
What time does the Convention start?

The optional Sponsor Appreciation Dinner starts at 6 pm CDT on Thursday. The main convention events start at 9:00 AM Friday at the Hilton Convention Center next to the hotel and continues until Saturday, wrapping up with the Awards Dinner on Saturday evening. Look for the schedule of events in your registration packet. People may decide to arrive early in the week or leave later and take advantage of all that the Chicago area has to offer.
Will the car wash station be open early?

Check back later for more details.
What if I win an award but don't attend the Saturday Awards Banquet?

SCNA will do our best to mail your award should you receive one. Alternatively, we can have your award available Sunday AM to avoid shipping charges.
Should I enter my car in Concours d'Saab or People's Choice competition?
Will there be changes to the car show this year?

Yes, there will be some changes to Concours d'Saab and People's Choice competitions at SOC 2023. In Concours, we are expanding the number of categories. People's Choice is now included in the basic charge for registration, though Concours costs a bit extra. For both, we ask that you fill in the car details when you register. Last minute changes to cars will be allowed only until 3 pm Friday, to give us time to edit the voting form. Cars will be allowed entry into one competition only, not both.

Is there a track day this year?
Will there be lunch at the track?

Yes! When you add the track option to your main registration, one lunch (per car) is included in the price. Additional track lunches are also available.
---
Registration
Register using the online form
.
---
Convention Hotel
UPDATE (4/10): The main hotel is sold out on some nights. See below for an additional link.
The Convention hotel for SOC 2023 is the Hilton Chicago/Oak Brook Hills Resort and Convention Center. Book a room at the Hilton using their reservation site. Rooms are available for July 19-24 at the special rate of $149/night. All Convention events and meals (except the optional Track Day) will be held at Convention Center adjacent to the hotel.
We also have arranged rooms at the Hilton Chicago/Oak Brook Suites, 10 Drury Lane, Oakbrook Terrace, IL 60181. We have a special $159/night rate for Thu-Fri-Sat. Or call Hilton reservations at 888-225-9664 and mention "Saab Club of North America" to get our rate, and so we get credit for it. (We're on the hook for a block of rooms.) These are all King rooms but each also has a sleeper sofa. No pets, same as the Convention center.
Should you have any questions, see the Convention FAQ , or reach out to Shelly Baxter or Daniel Cahill. We look forward to seeing you in 2023!
---
---
40th Saab Owners Convention