If you feel that your Saab is among the "Best of the Best", and your car presents itself well in terms of originality and condition, and if you would like to have your car judged by knowledgeable and devoted judges, then Concours d'Saab is right for you!
---
Our Concours d'Saab is based on this ideal of presenting the "Best of the Best". Our goal is to assemble these Saabs in an arena of competition which highlights their originality and condition.. These criteria will be used in judging both original and restored examples. The SCNA Concours d'Saab rules are designed to give equal weight to originality and condition. Thus, higher-scoring cars and award winners are those that are closest to the way they left the factory. Concours d'Saab provides a great opportunity to "show and tell", and since Saabs are no longer produced, ANY year or model is eligible for entry into the Concours d'Saab voting.
Review the Car Show Categories for SOC 2023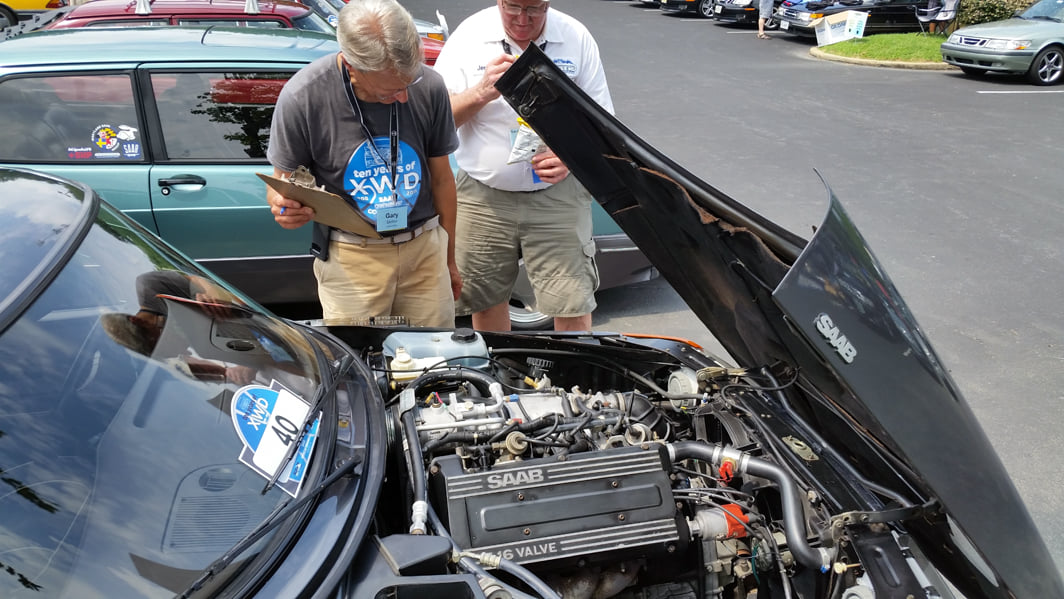 ---
What to expect when you enter the Concours d'Saab:
The Concours d'Saab is a judged/scored event.  The judges have many years of experience with Saabs and know what to look out for. A winning Saab is a clean Saab! Things like detailed door jambs, trunk, and engine bay will improve your "condition" scores. Additionally, please remove all personal/cargo items from car leaving the trunk and interior empty and easily viewed. – The judges need access to all parts of the car: engine bay, trunk, spare tire, glove box, etc., so make sure everything is unlocked/open.  Major modifications will result in reduced originality scores (for example, modified engines, lowered suspension, window tint) – Your judging sheet will be returned to you after the show with the judges' suggestions as to improvements you might make for next year! 
Not sure? Check this comparison.