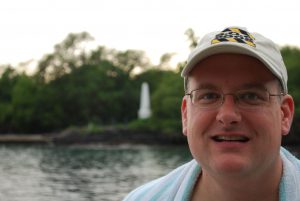 Greg Abbott, Director
Minneapolis, MN
Greg bought his first Saab, a '75 99 hatch in Emerald Green, in the summer of 1989, as an emergency replacement for a wrecked Chevy Impala. The handling, steering feedback, and utility of the car were eye-opening. Despite the wonderful "AUTOMATIC" badge on the rear of his first Saab, Greg quickly concluded Saab virtues were best expressed in manual form.
After a decade of driving Saabs, Greg was thunderstruck to discover that there were local and national Saab clubs, and even (gasp) an annual convention of Saab Owners.  Greg's first SOC was 2005, at Stratton Mountain, Vermont.  Greg has also served twice as president of the Minnesota Saab Club.
Greg has been a member of the SCNA Board of Directors for several years, and since 2006 has served as the official photographer for the SOC (unfortunately excluding 2017, when the total solar eclipse could not be rescheduled to accommodate the convention dates).
Current Saabs:
2010 9-5 Aero XWD (Arctic White)
2005 9-3 Arc convertible (Black)
1990 900 SPG (Talladega Red)
1978 99 Turbo (Cardinal Red)
Prior Saabs:
2000 9-5 Aero (Black)
1989 900 T vert (x2) (Red & White)
1988 9000 Turbo (Black)
1985 900 base (Sky blue)
1975 99 Combi (Emerald Green)
1973 99 2-door (Verona Green)